---
---
Ghost Tools | Selectable
---
---
---
---
Product Description
---
GHOST has a line of tools that make any pistol improvement project easier.
CHOOSE A PUNCH
GLOCK # 03374: ARMORER'S TOOL 2.5 MM - The Glock Armorer's Tool is same one you get for attending the Armorers Courses. Glock logo embossed on the top of the tool.
GHOST ARMORER TOOL KIT GEN'S 1-5 - Standard Punch
GHOST ARMORER TOOL KIT GEN'S 1-5 - Enhanced Punch
GHOST ARMORER CLEAR PLATES - The plate is sectioned by 1/3 in height to permit viewing of the sear and firing pin engagement. Our plate is slightly thicker in width than the Glock plate. We make this plate thicker in width because this thickness moves the firing pin leg slightly forward. Moving the firing pin leg effects where the trigger releases the firing pin.
GHOST ARMORERS PLATE FOR GLOCKS GEN'S 1-5 -
GHOST ARMORERS PLATE FOR GLOCKS 42 & 43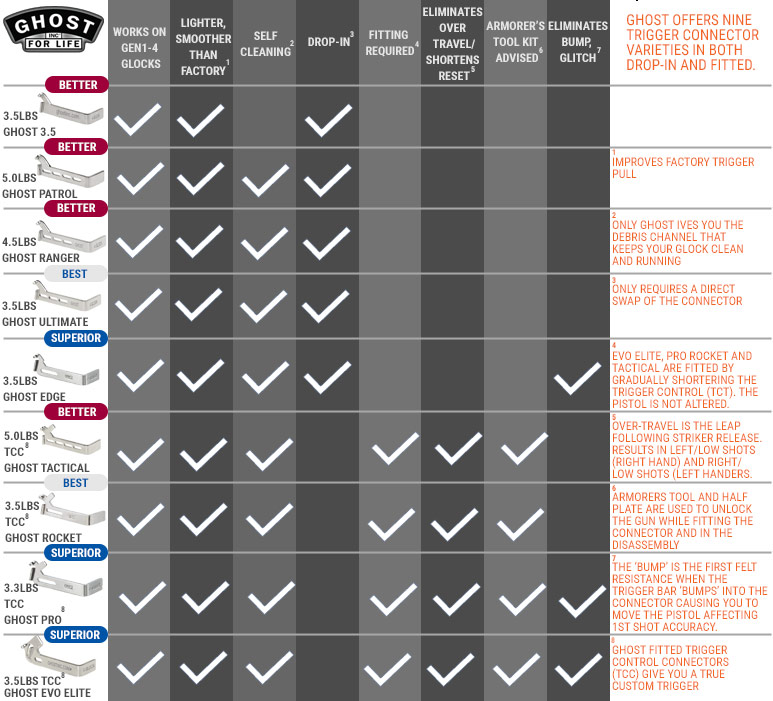 ---
Features
---
Use the tools professionals use
Ghost Lifetime Guarantee
Made in the USA
---
---
Firearm Model
Glocks - see features for models
---