For inventors, by inventors. Go Gear Direct is a marketplace built to help inventors launch new outdoor gear and firearm accessories as well as to provide access to proven, high quality gear by seasoned American Made brands.
---
Charlie Summers did not know that he would go on to invent a target sharpening marvel while serving for the United States Air Force during the Vietnam Era. At that time, Charlie focused on serving his country that he loved and getting back home to his family. Charlie worked as an optical specialist for the Massachusetts Institute of Technology (MIT) after he returned home from the Air Force. He learned and worked with the best in the industry in optical engineering. Charlie retired from MIT and wanted to share his knowledge to help others group shots within an inch at 100 yards or more. He used his engineering background and love of shooting to develop and patent the EyePal® Peep Sight System.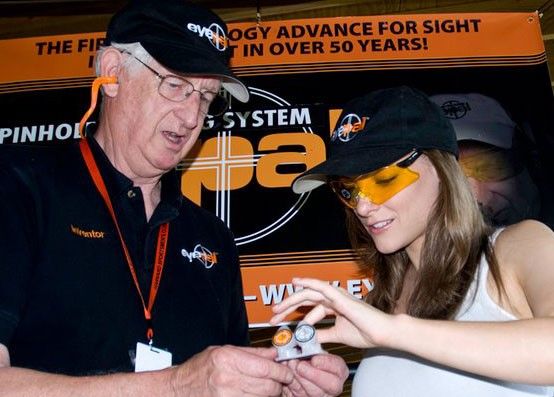 EyePal® maximizes an iron sight shooter's targeting ability.
The EyePal® is a peep sight aperture that uses static-cling material to stick to shooting eyewear. It is made of flexible material that is guaranteed to cling to all types of eyewear. The EyePal® system attaches to all shooting glasses and prescription glasses. It does not have an effect on shooters with prescription glasses. Shooters with prescription glasses, LASIK and contacts will see a perfect sight picture. Reusable and relocatable, the EyePal kit comes with a simple contact lens case for storage that is lightweight and easy to throw in your GoGear Direct shooting bag for the range.
A typical shooter sees a lot of visual stimuli when looking down iron sights. The EyePal® provides a sharp sight picture and blocks any peripheral stimuli surrounding the target that could distract the shooter. This enables intense focus on the sight picture that leads to better groupings at a greater distance.

The above pictures demonstrate how the EyePal® system clarifies a sight picture. I personally love shooting iron sights and seeing how far out I can still group my shots inside a bullseye. It becomes difficult to focus over time and as the distance increases. The picture on the right shows the iron sights with the EyePal® system attached to the shooter's glasses. The EyePal® system sharpens focus by blocking out the peripheral vision. It further focuses the eye on the sight picture, which provides a crisp view of the sights and the target before squeezing the trigger. Check out our video on how it works.
Let this video wrap up this gear review and you decide!
The EyePal aperture is small providing maximum depth of field (DOF).
EyePal resolves astigmatism, near-sightedness and far-sightedness with ease.
The resulting EyePal image is a clear sight picture with sights and target at any distance in sharp focus. Prescription glasses and contact lens neither affect nor distort the EyePal's image quality.
The peripheral vision surrounding the target is obscured by the small opaque area of the EyePal, creating extra contrast for good sight and target acquisition.
The remaining peripheral vision is evident and crucial for tactical awareness.
GoGear Direct loves inventors like Charlie who share their expertise with the shooting world through developing innovative All-American products. When Ginger Chandler, the CEO of GoGear Direct, talked with Charlie, she knew that the EyePal® would make an excellent addition to the growing innovative product lines that regularly appear on GoGear's site. Take a look here to get your pair. Also, be on the lookout for packaged deals with premium shooting eyewear. GoGear has your back on iron-sight shooting.