For inventors, by inventors. Go Gear Direct is a marketplace built to help inventors launch new outdoor gear and firearm accessories as well as to provide access to proven, high quality gear by seasoned American Made brands.
---
I don't see it on the list of 10 but I owned a
Freedom Arms Model 83
and foolishly let it go. I miss that accuracy.
A trail gun is a firearm intended to accompany you outdoors. It has no specific purpose other than to be there if you need it. You might carry one while checking trail cameras in Virginia, riding ATVs in Texas, fishing for salmon in Alaska, or picking blackberries with the kids. A trail gun could be used for potting small game, killing snakes, shooting vermin, stopping a bear, or even self-defense. Your geographic location and the things you do outside will dictate the type of trail gun you need. Here are the 10 best choices, and all of them cost less than a grand. Pick one that best fits your pocketbook and lifestyle, and then hit the trail.
Handguns
1. Ruger Wrangler .22 LR
Since technically just about any gun could be a trail gun in a pinch, a dedicated trail gun might not be at the top of your buy-right-now list. If money is tight and you would still like a gun devoted to trail service, the Ruger Wrangler is hard to beat. With its cold-hammer-forged barrel and transfer bar safety, the Wrangler is very similar to the Ruger Single Six. But at $249, it's half the price. Wranglers also have a durable Cerakote finish to fight the elements, and you can choose between black, silver, and burnt bronze. Revolvers chambered in .22 LR have been trusted trail companions for years, and you won't find a better affordable option than the Ruger Wrangler. ruger.com
2. Browning 1911-22 A1 Compact .22 LR
For most outdoorsmen, a .22 LR handgun is the optimum trail gun, and few are lighter or easier to carry than the Browning 1911-22 A1. This pistol is 85 percent the size of a .45 1911 Commander. It's small enough to fit in the back pocket of your jeans, and it weighs only 15 ounces. It has all the features of a classic 1911, including a grip and thumb safety, and it is accurate enough to head-shoot jackrabbits or rattlesnakes. For a few dollars more, variants are available with enhanced sights, a beavertail grip safety, an accessory rail, and even a threaded barrel. $599; browning.com
3. Lipsey's Exclusive Ruger Single Seven .327 Federal Magnum
An all-round trail gun should be powerful, portable, and versatile. Few meet those requirements as well as this exclusive Single Seven from Lipsey's. It'll fire five different kinds of cartridges; .32 ACP, .32 Short, .32 Long, .32 H&R Magnum, and .327 Federal Magnum, allowing you to match the power level of your handgun to the task, whether it be small game hunting or—with the right ammunition—bear defense. Don't be fooled by the small caliber, with hard-cast bullets the .327 runs with the .357 Magnum, holds more ammo, and recoils less. This seven-shot handgun is also built on an aluminum frame which makes it lighter than your average single action, and it is fitted with XS Sights for fast acquisition in any light. $629; lipseys.com
4. Smith & Wesson Model 69 .44 Magnum
If stopping a charging brown bear while you wade an Alaskan stream is the only reason you want a trail gun, and if you want to keep that trail gun as compact, powerful, and portable as possible, Smith & Wesson's Model 69 in .44 Magnum is a fantastic choice. This all-stainless revolver only weighs in at 37.4 ounces and holds five rounds of .429-caliber naughtiness. It also features a red-ramped front sight, white outlined rear sight, and a very comfortable synthetic grip. It's backed by Smith & Wesson's lifetime service policy and has a suggested retail of $854. www.smith-wesson.com
5. Glock G20SF GEN 3 10mm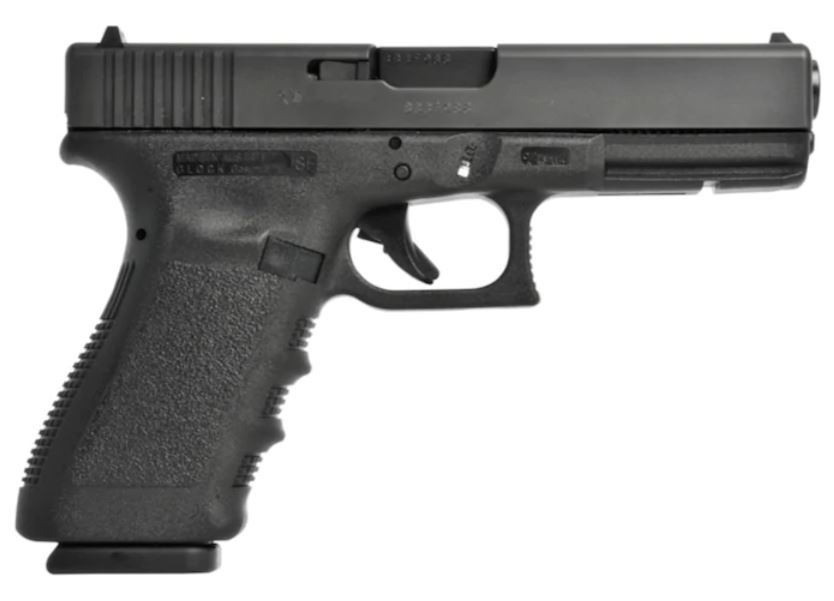 Sometimes a trail gun has to balance the wants of an outdoorsman with the requirements of self-defense. Not only might you want to pack a gun that can kill feral hogs and stop an angry bear, you need trail gun that can adequately protect you from some of the bad folks you might encounter while out and about in the wilderness. Glock's G20SF offers a great balance of portability, power, and even concealment. Chambered for the 10mm, it delivers maximum power for a semi-auto pistol, but the new short frame (SF) allows the gun to fit smaller hands to increase controllability. Empty, this pistol tips the scales at only 31 ounces and fully-loaded it holds 15+1 rounds of 10mm ammunition. $569.99; glock.com
Long Guns
6. Marlin Model 70PSS (Take Down) .22LR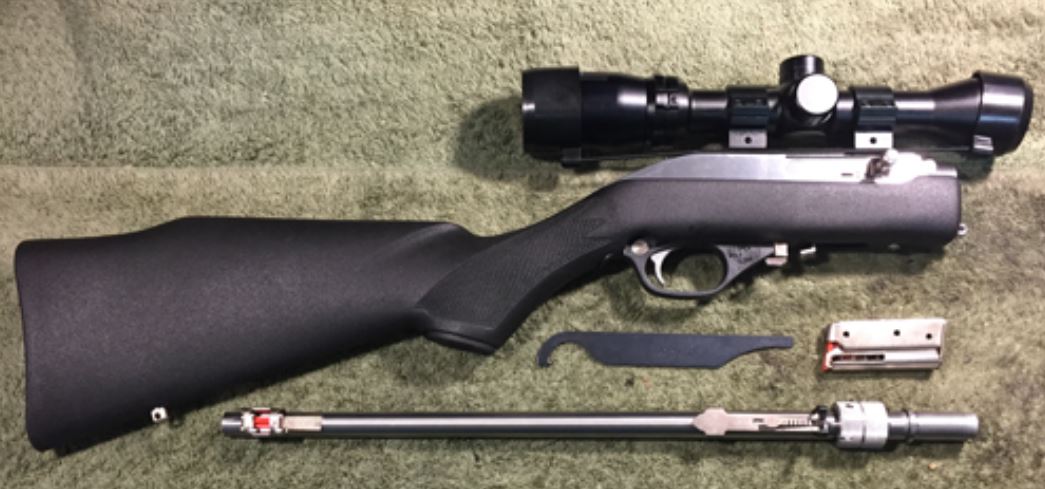 How about a .22 rifle that weighs only 3.25 pounds, can be taken down and slipped into a floatable, soft-sided case, and has a suggested retail price of only $352? The Marlin 70 PPS, formerly known as the "Papoose," is a semi-automatic rimfire rifle with a seven-shot detachable magazine and synthetic stock. It comes with an adjustable rear sight, but the receiver is also grooved for scope rings. It can be assembled and taken down in seconds, and if it falls out of your canoe, it won't sink to the bottom of the river. marlinfirearms.com
7. Ruger 77/44 .44 Magnum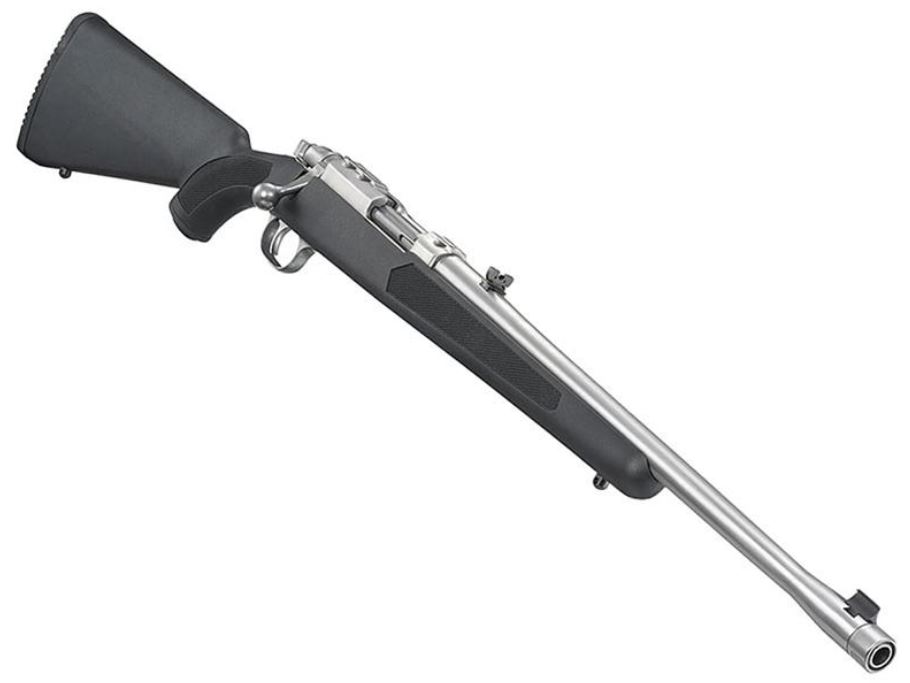 As a trail gun, a full-size rifle seems a bit much. Your goal is to enjoy the trail and the non-hunting activity you're engaged in—not to lug a long gun to a mountain top. Still, there are circumstances where to feel safe you might want the horsepower that only a rifle can bring, but without the length and weight commonly associated with one. At only 5.2 pounds, the Ruger 77/44 is a lot of rifle in a little package. Not only is it light, it's only 38 inches long. With shotshells it can handle snakes and with full-power loads it'll topple even largest and most dangerous forest creatures. A threaded muzzle is standard for $999, and wood-stocked and blued-steel variants are also available. ruger.com
8. Mossberg 500 Cruiser Tactical JIC FLEX/12-Gauge

If a shotgun is your idea of the ideal multi-purpose firearm, then you're going to want a shotgun for the trail. But like rifles, full-size shotguns are a lot of gun to lug around on a nature walk. A condensed option is the Mossberg 500 Cruiser. With its pistol grip stock and 18.5-inch barrel, the overall length is only 31 inches. It will accept Mossberg FLEX accessories and it even comes with its own backpack case. The ability to choose between slug, buck, or shot, makes the 500 Cruiser adaptable to just about any situation that might arise on the trail. $539; mossberg.com
Other Guns
9. Bond Arms Snake Slayer .45 Colt/410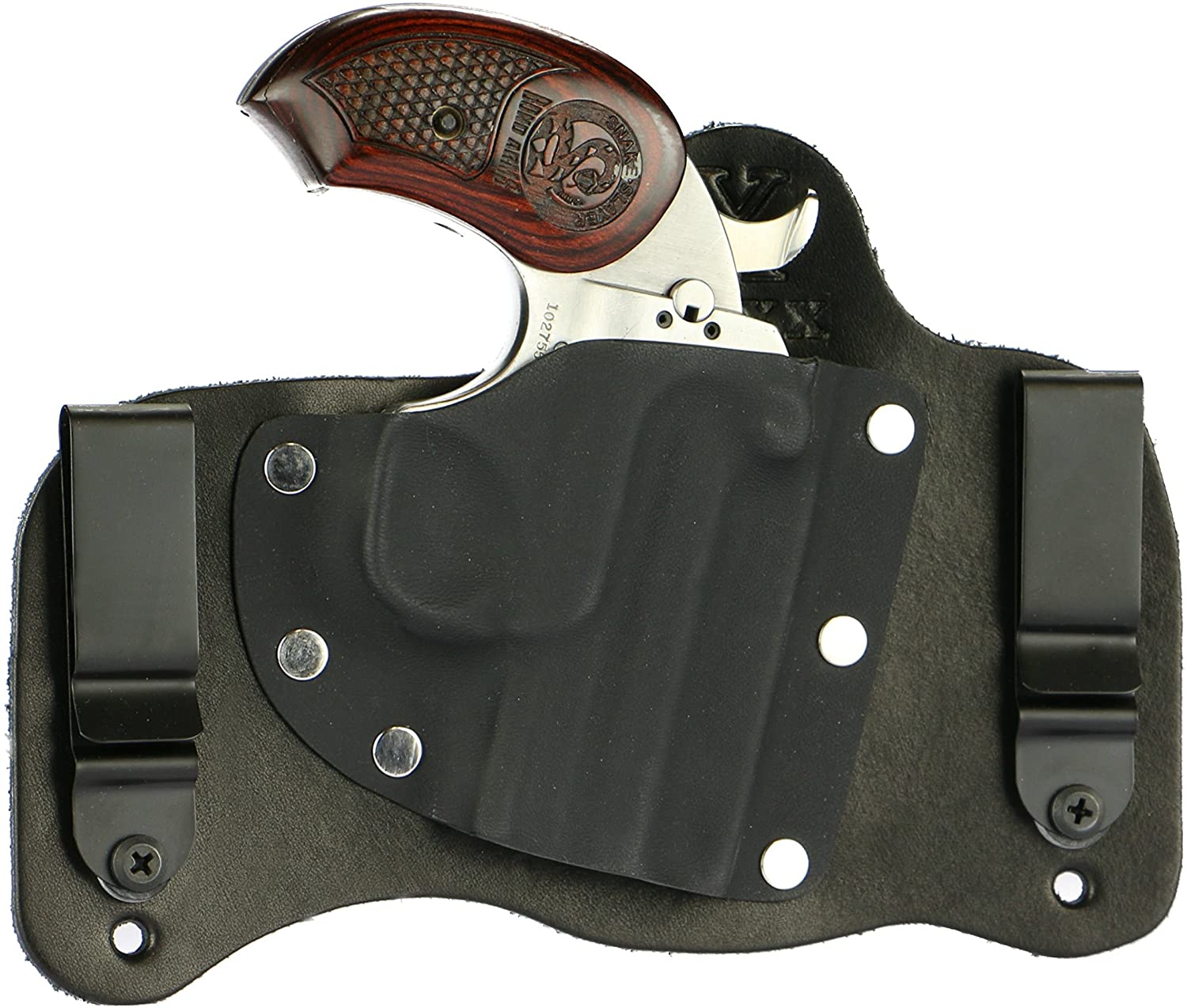 Specific trail gun needs vary due to the circumstance. You might only need a gun to execute copperheads and water moccasins, and to deal with the violent riffraff you could encounter at trailheads and river access points. Derringers used to be popular pocket guns but have fallen out of favor. However, a two-shot, compact handgun that can fire either .45 Colt or .410 shot-shells has its place in the outdoors. The Bond Arms Snake Slayer is that gun. Crafted of all stainless steel, this 22-ounce derringer can shred a snake with a .410 shotshell, or stop a marauding, drug-crazed goon with a single round of 45 Colt. It retails for $603 and Bond Arms offers specialized holsters and ammo carriers to go with it. bondarms.com
10. Remington V3 TAC 13/12-Gauge
Because of the munitions available, shotguns are the world's most versatile firearms. At the same time, most are too long and cumbersome to qualify as a dedicated trail gun. You could saw off your shotgun's barrel, but then you'll be in deep trouble with the ATF. The solution? A Remington V3 TAC 13. This "firearm," as it is considered by the ATF, fires shotgun shells, has a barrel that's only 13 inches long, and a pistol grip stock. It is, for all practical purposes, a sawed-off shotgun that when loaded with buckshot will work for personal defense, when loaded with slugs will stop a grizzly, and when loaded with common shot can pot small game. At only 26.5 inches it's also very compact and a great companion to an ATV or side by side. $933.00; remington.com
Written by Richard Mann for Field & Stream and legally licensed through the Matcha publisher network. Please direct all licensing questions to [email protected]