---
---
3.5 STANDARD FOR GLOCK'S SELECTABLE
---
---
Use a GHOST INC trigger connector and become a "Ghost Maker" not a ghost!
---
---
Product Description
---
The Ghost 3.5 LB. connector is a drop-in connector (no fitting required). It is designed to give a lighter and smoother trigger pull than factory. This is accomplished by precise manufacturing processes and pre-polishing of the key contact points. These methods ensure the GHOST 3.5 LB. TRIGGER is optimized to improve the trigger pull of all generations of GLOCK® semi-automatic pistols. With a superior GHOST INC® trigger connector you will shoot better and faster.
Standard 3.5 Options:
Standard 3.5 Trigger Connector
Standard 3.5 Trigger Connector and Spring kit (GEN 1-5)
Fine tune your trigger pull, feel and weight all in one kit!
We combined all the parts necessary to give you best trigger pull possible. You save a few bucks and get everything in one shot! The Kit includes 5 parts: Please Note that all trigger kits include the target setup and self-defense set up.
- 3.5lb Drop-in Gen 1-5
- 6lb extra power trigger spring, the extra power reduces the pull weight (This heavier weight offsets the added weight of the striker. This is an assisting spring and lightens up the trigger press for GEN 1-4. Not available for GEN 5 pistols.
- 6.0 lb Firing Pin Spring (Self-Defense Configuration)
- 4.0 lb Firing Pin Spring (Target/Sport Configuration)
- Reduced power firing pin safety spring
Special Considerations:
Fits GEN 1-5 - Does not fit Glock 42 and 43
DROP-IN, NO FITTING REQUIRED!
The 4.0 lb Firing Pin Spring may cause light primer strikes in some pistols and this is the Target/Sport configuration.
For Self Defense or in a 10mm/45 caliber Glock we recommend the 6.0 lb firing pin spring.
Consult a gunsmith or armorer for installation in the event you are unsure of the correct configuration for your use.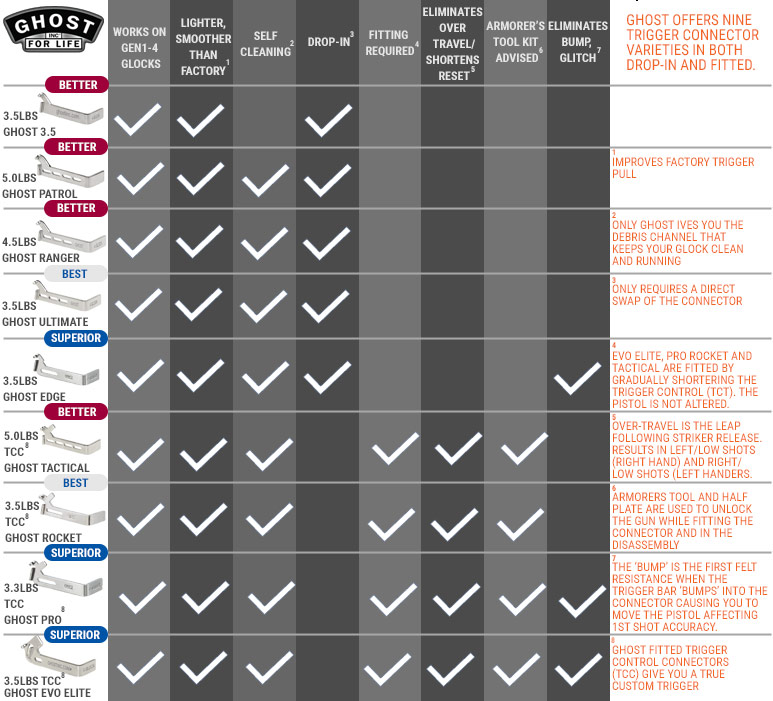 ---
Features
---
This connector is compatible with GEN 1-5 (6.0 lb trigger spring compatible with GEN 1-4 only)
Ghost Lifetime Guarantee
Made in the USA
---
---
Firearm Model
Glocks - see features for models
---