---
---
LED Module for 40KAP Headlamp
---
---
40KAP LED Module, Fits only the 40KAP headlamp. Will not work in any other lights. Your choice of color(Red,Green,White,InfraRed)
---
---
Product Description
---
40KAP LED Module
Fits only the 40KAP headlamp. Will not work in any other lights. Your choice of color(Red,Green,White,InfraRed)
The color of LED module determines the color of light the 40KAP will emit.
Only takes about 30 seconds to replace LED module in the 40KAP headlamp and no tools needed
Warranty - 5 years on the LED and Housing, 2 years on any external wires, switches and mounts. 1 year on batteries and charger.
Light Distances
Please note that Sniper Hog Lights uses the ANSI/NEMA FL-1 system to determine the Candela and Distance of all our lights as this is becoming the Industry standard. We have yet to see any of our competitors that sell mainly hunting lights use the ANSI system.
Please note that while Sniper Hog Lights will shine the distances shown below, the distances you can actually see the entire animal is going to be less but they will light up the animals eye's past the distances below.
Humidity, rain, clarity of the air, how well your scope does in low light and other conditions will all effect how far you can see. The yardage numbers below are in perfect controlled conditions. As a general rule of thumb, you will be able to identify at about 1/2 to 2/3 the distance a light shines depending on your equipment and field conditions. For example, if a light shines 600 yards, you should be able to identify somewhere between 300 and 400 yards. The first chart below is the current minimum distances our lights will shine in spot beam with a fully charged battery with our current LED X modules.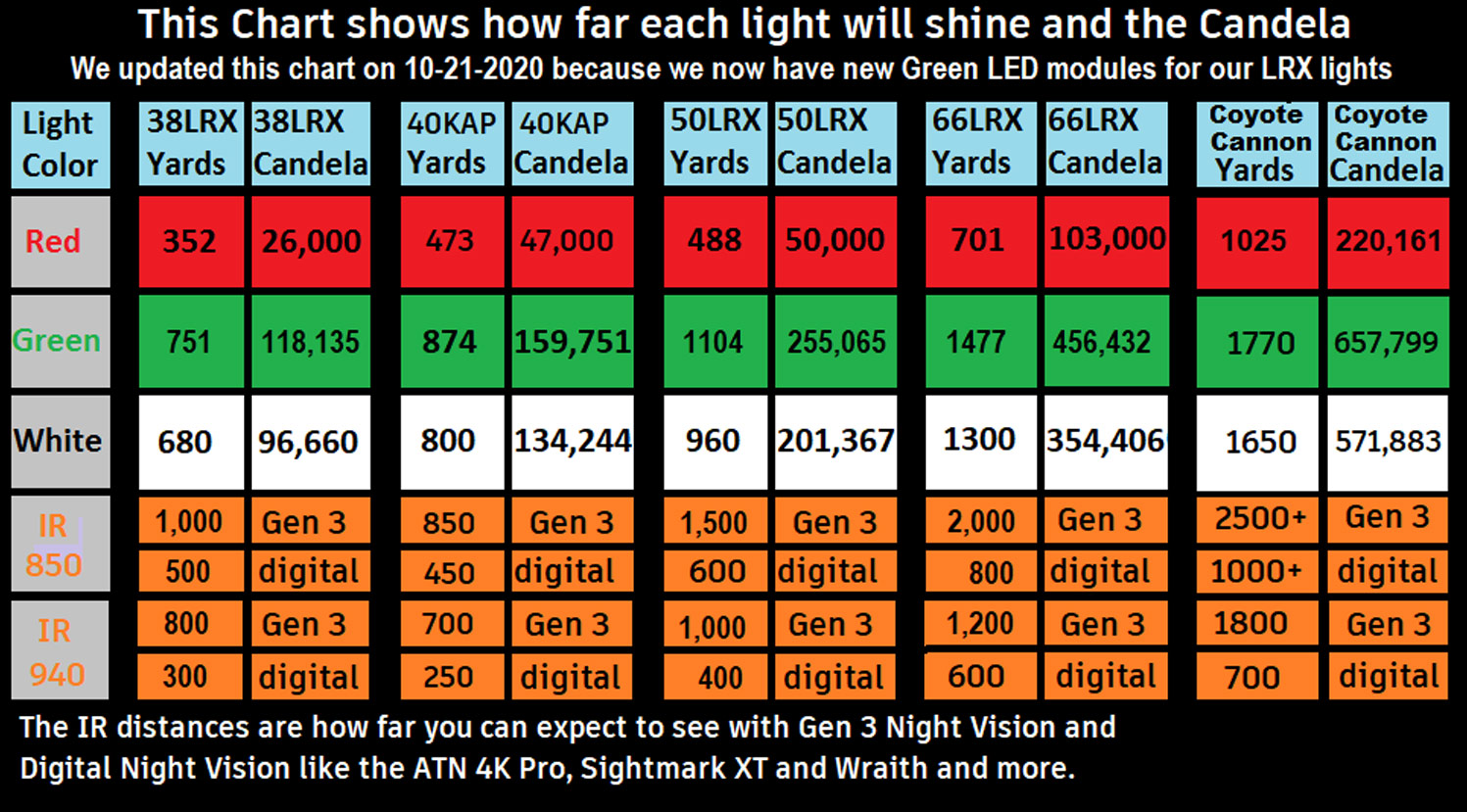 ---
Features
---
Fits only our 40KAP headlamp
No tools needed to change out module.
Four different color options
---
---
---