---
---
G42/43/43X and 48 PRO Connector
---
---
Eliminate overtravel - THIS IS THE SAME CONNECTOR FOR THE 42/43/43X & 48!
---
---
Product Description
---
When you first receive this connector, install it first before trimming/reducing. Apply extra pressure and see if it releases the firing pin. If it does with extra pressure you will trim down very little to get a clean smooth release.
This is the connector long sought after by Glock 42, 43, 43X and 48 Enthusiast everywhere. This is the Smoothest Connector on the market today.
The G42/G43 PRO fixes the Glock bump or glitch, this is the pre-travel resistance you feel and must overcome when the trigger bar bumps into the connector. This bump causes you to apply excessive force and will move the pistol off target. Another thing the G42/G43 PRO corrects is trigger over-travel; the excessive movement of the trigger after the pistol fires. Over-travel causes the pistol to move off of alignment with the target, making your shot go low and to one side.
The G42/G43 PRO is Smoother, Lighter, Shorter and eliminates trigger Over-travel! These attributes give you the fastest most accurate first shot hit advantage of any self-defense Glock style trigger.
Special Considerations:
Fits only Glock 42, 43, 43X and 48.
This is not a drop in trigger connector: Some fitting required.
Consult a gunsmith or armorer for installation.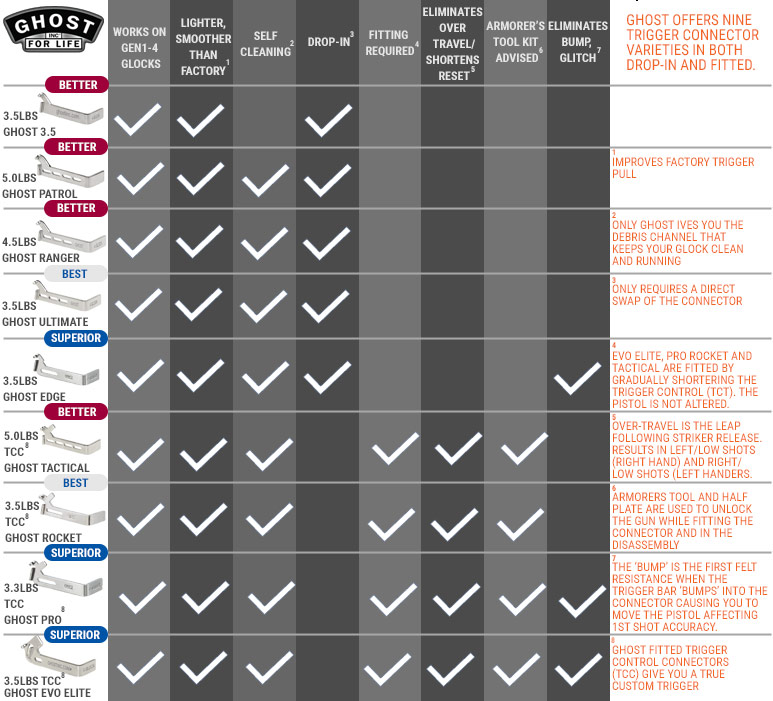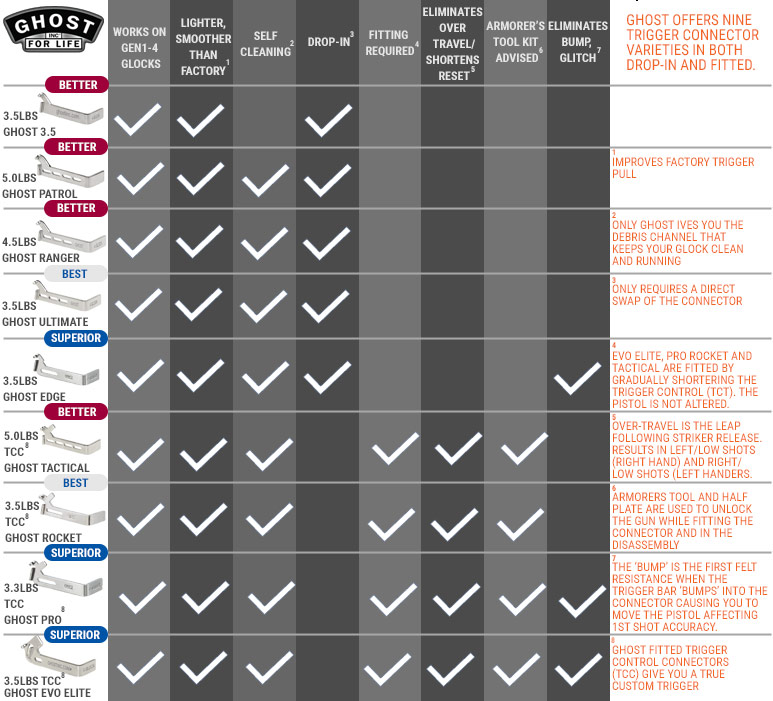 ---
Features
---
This Connector is For CCW Self-Defense.
This connector is compatible with 42,43,43x,48
Ghost Lifetime Guarantee
Made in the USA
---
---
Firearm Model
Glocks - see features for models
---