For inventors, by inventors. Go Gear Direct is a marketplace built to help inventors launch new outdoor gear and firearm accessories as well as to provide access to proven, high quality gear by seasoned American Made brands.
---
Tailgating is on the mind this time of year for practically everyone, but for the hog hunter, it means something different. Tailgating to most people is centered around college and professional football, cracking a beer a little earlier than normal and just having a good ole time with friends around way too much food on the grill. But to the hog hunter, tailgating isn't a pastime—it's the time and place to get your gear in order. And unlike the football variety, it's almost a requirement that this tailgate is centered around an actual tailgate on the back of a truck.
Light up the night.
This is where hunting buddies get ready for the long, exciting night ahead, a place to spread out their inventory of gear and plan their moves for a successful, safe hunt. It's during the tailgate that the pig hunter has some decisions to make. On a long haul, what you don't take can be just as important as what you do, as the extra weight may not be worth the extra gear. It's here where it's important to visualize what you'll be doing on your hunt, and what you don't want to be doing. For instance, do you really want to have to depend on your night vision scope every time you want to see what's in front of you? Even if you have one of the nicer, more expensive night vision scopes out there, is it always the right tool for every situation? What about when you want to light up an area without necesarrily pointing your weapon in that direction? We at Go Gear Direct have found the perfect complement for your scope, or in some circumstances, perhaps even its replacement, in top quality hunting lights from Sniper Hog Lights. Before you close the tailgate and head out to the hunt, consider how much a little more light could mean out there.

---
Why a Sniper Hog Light?
Imagine walking out in the pitch black, having to look through your night vision scope just to see out in front of you, not even focusing yet on the hog you're looking for. Now imagine simply turning on your high powered night hunting light that's mounted on your bow or rifle, or quickly detaching it for use as a more traditional flash light. Suddenly the dark is no longer black—but red or green. And your field of view is no longer confined to the area inside your tiny scope, but instead, the whole world in front of you seems to have opened up. If there's a hog out there, you're going to see it, and what's better than that?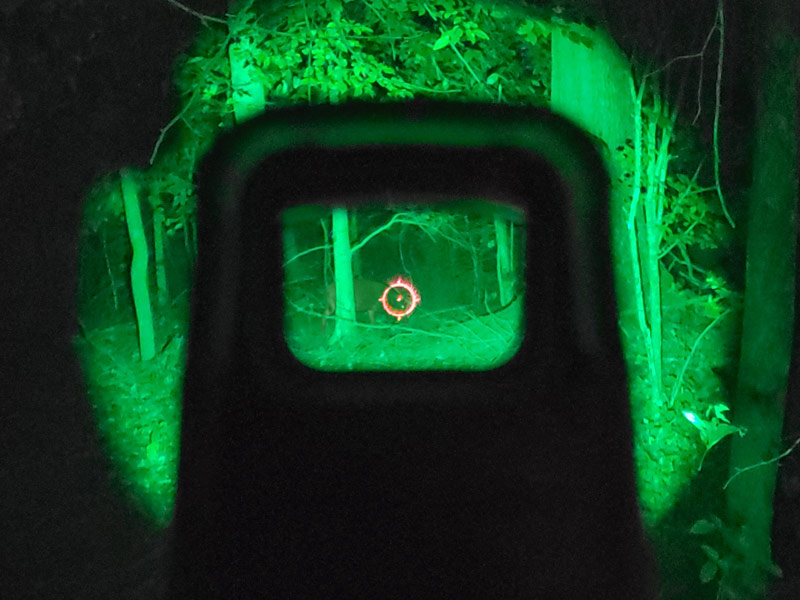 ---
---
Night hunt solutions. Light years ahead.
So why Sniper Hog Lights? Well these guys were the first, the original makers of top quality hunting lights and they seem to continue to be out front of the industry in innovation. Their newest models, the 38LRX, 50LRX and 66 LRX lights are the best lights with the longest ranges we've ever seen. They shine further than other gun-mounted lights and it's not even close. For instance, the 66 LRX will illuminate what's 1000 yards in front of you. Of course, not everyone needs that much light all the time, which is where the other models come in. And all of their gun-mounted lights, feeder lights and high powered flashlights have adjustable focus, which means you can put just the right amount of light to see your hog without alerting it. And these babies are versatile, featuring interchangeable LED modules in red, green, white and IR, and other interchangeable parts so you can make adjustments on the go. Different models include different features and specs, but generally when you're packing a Sniper Hog Light, it comes in a 1" tube, with focus adjustability from flood light to spot beam, is able to interchange colors easily and can be used mounted on your gun or bow or be used as a traditional flashlight.
So don't forget to illuminate your next tailgate with the right hog light. Go Gear Direct has made it easy to get yours in a convenient bundle that includes other gear that should be a part of every tailgate as well, including a Vapur camo water bottle, an Orca camo chaser, a rifle cleaning pad and a Flambeau medium sized box. See what kind of savings you can drag out with the Sniper Hog Lights Bundle from Go Gear Direct.


---