---
Kids and Family Build the Foundation
I've said a million times out loud that I love being a dad. I love the fun, the challenges and even the little back talk that comes in hot from an 11-year-old daughter.
I love that if I handle it right, I become better as I help them become better. One thing I have always tried to be with kids is consistent. It's taken a few years to learn, but I am pretty good in that area... so far. Consistency helps them know me and my expectations. With that said I believe in having fun with my kids. Spending quality time with them doing as many adventures as we can fit in. We spend a lot of time in the water. Wading in the river down the road happens every couple of days. We track down carp in the spring and we sometimes venture down to the shoreline for walks and chowder. We climb as many mountains as we can find and sometimes we just "lay low", as they say, and just cuddle on the couch.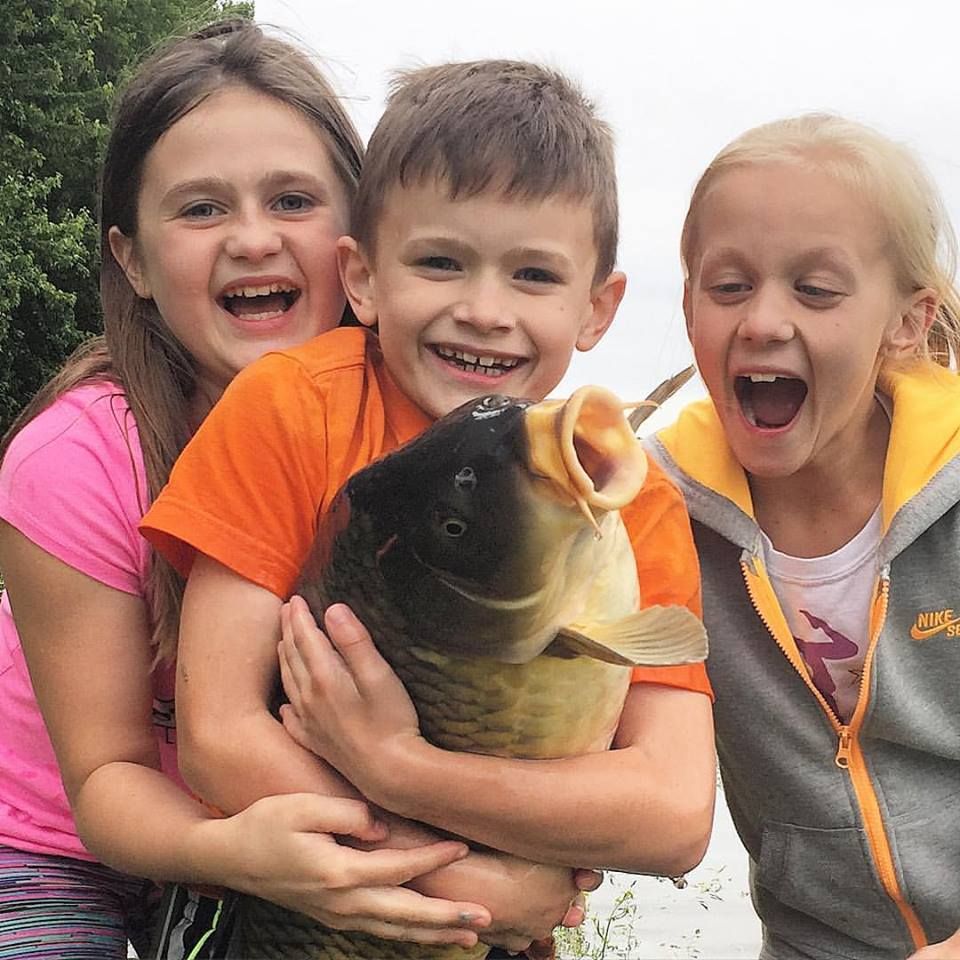 FUN is key
One of the other things I do for fun is hunt waterfowl. When summer starts to slow down, I can't stand it. I am prepping all my gear in anticipation of opening day. This year, it was time for me to get a new hunting companion. Her name is Kona and she is a terrific puppy, however, there is a long road from being a puppy to being a competent hunting dog. I've trained all my hunting dogs and early indications are that she is going to be a good one. With all the training I've done, I believe the keys for my kids- consistency, quality time and having fun, are also keys for raising and training a great dog.
We need to be consistent, loving and spend a decent of amount of undistracted quality time with them. It really makes a difference to them, just like with our children. We need to keep them having fun all while "training" them as we go. I even think our mentality should be the same, go have fun with them and keep a little structure. All while making them want to get back out there. Kona, like many retrievers, is hardwired to chase and retrieve anything. Fun can be a tennis ball or the disc pictured below from Bihlerflex which is easy for her to handle. They have some rugged, fun toys - check them out.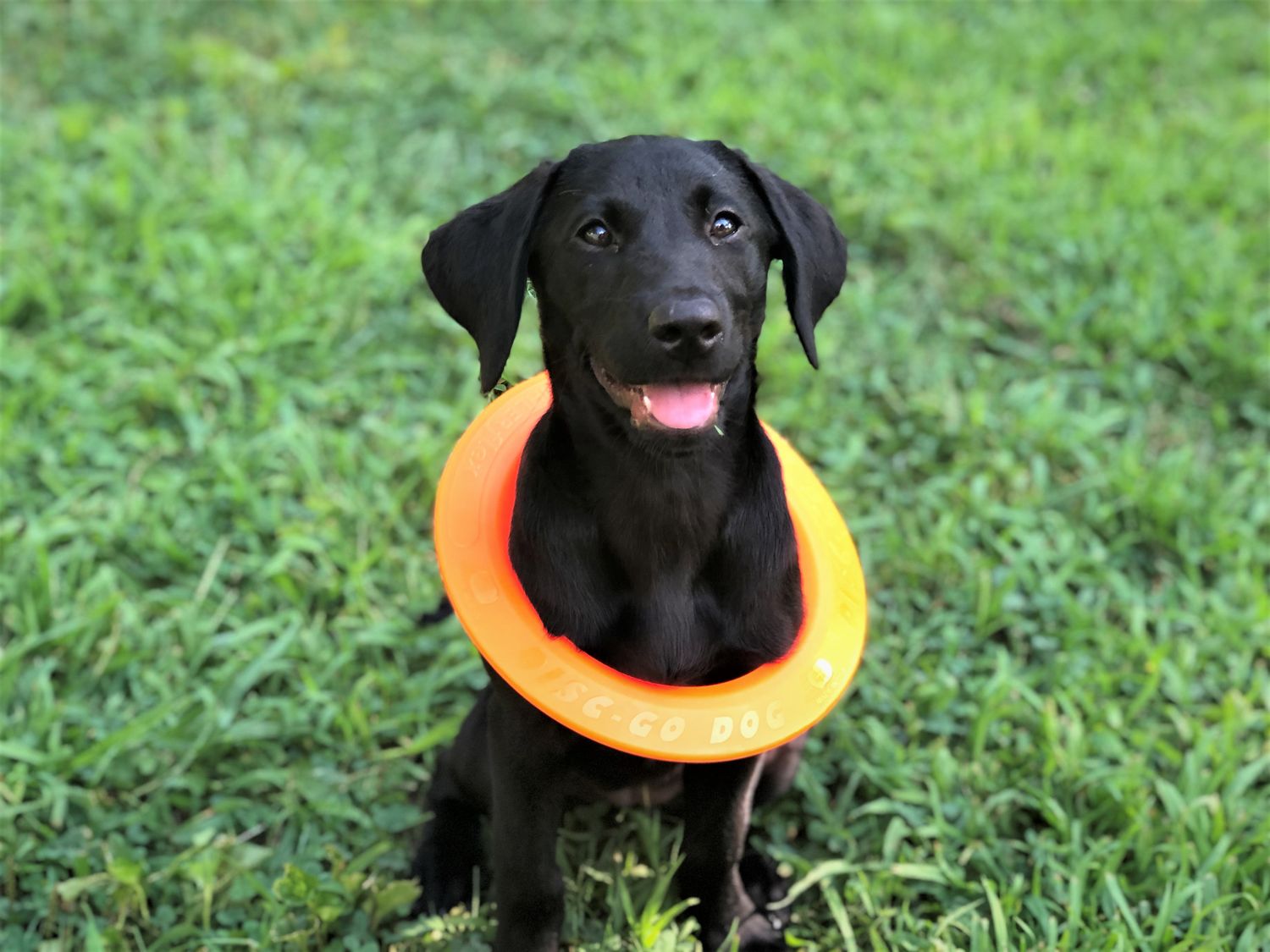 Now I'm talking about a puppy here, big dogs need to work and to work hard. Unless you've been sea duck hunting with a dog during a Northeast blizzard, you may not have really ever seen a duck dog work. The tides, currents, cold water and wind. These are not for the faint at heart K-9. We are just playing for now - with the disc, in the stream. She will work up to her nor'easter.
I have a simple approach to getting a dog in the water.
Find a shallow stream and just let them mill around at their own pace. Let them have fun. Trust me, I've had the urge to pick the cute little buggar up and throw her into the deep end but not the best choice for getting a pup comfy in the water.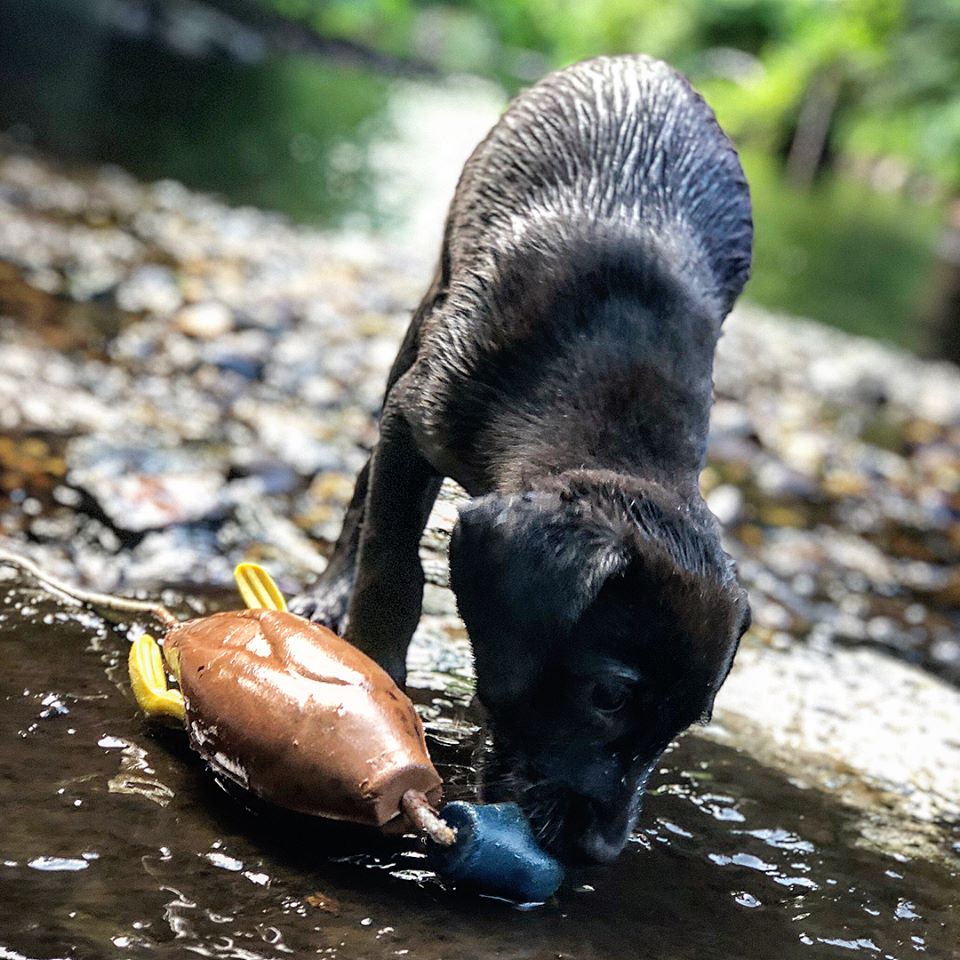 Now, a pup has thin fur so the water temperature is important.
The stream near our home is always chilly so the swims are quick. It's perfect for water acclamation and having fun. We spend more time at a clip in the Connecticut River because mid-July the water temp is more comfortable. I have little to no expectations at this age for Kona. Really just wading around is enough at this point. Although this time, instead of milling around aimlessly hunting for waterbugs to eat she gave me a surprise I'll never forget. She was just sitting on a rock looking at me all cute and with those eyes as if she was planning something! Out of nowhere she launched at me like a rocket ship. I have never seen a little pup jump that far before. I just about fell over with the force she hit me with. I started doing the "good girl dance" and everything. It was the same feeling I get when I see my kids loving each other without being forced. I was that happy. I had to see her jump a couple more times just so I knew it wasn't a fluke and she did! With both of us tired and happy, we called it a day. A great day!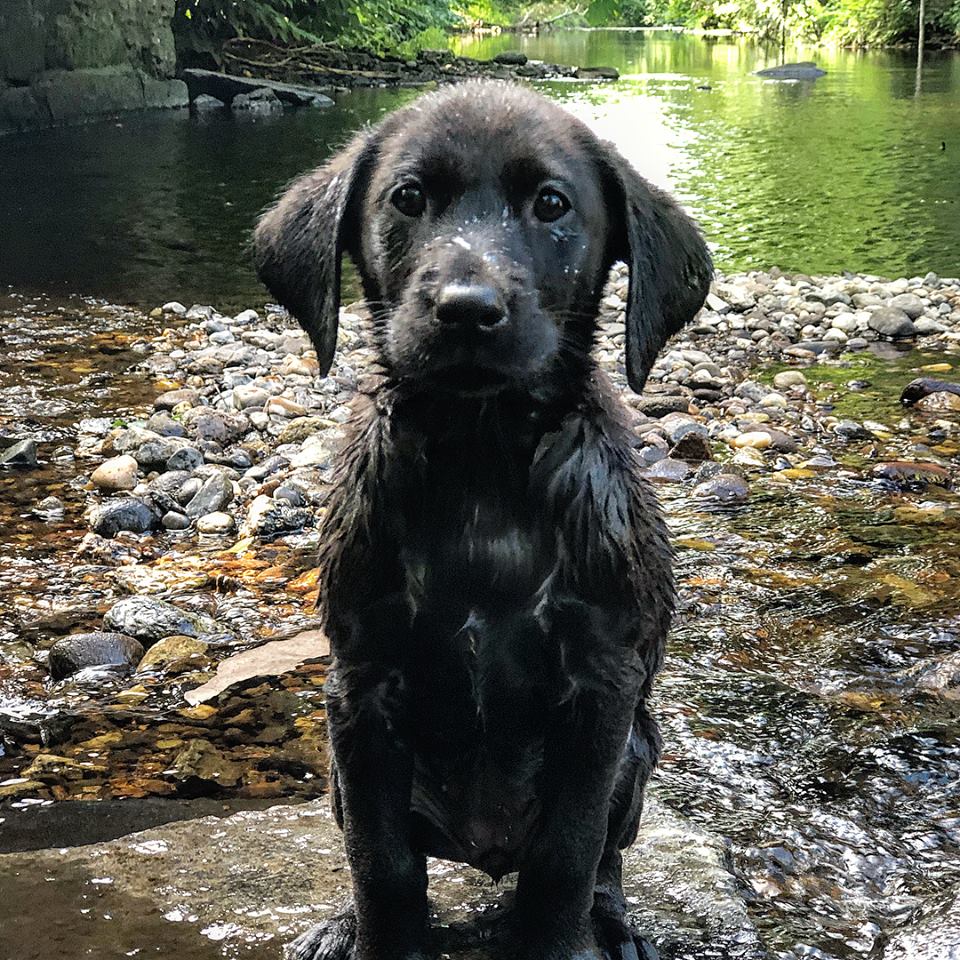 I was thinking about her jumping down at the river and decided it was time to see if she could jump off a little dock.
It took me a while to think of the perfect spot but at high tide on the Connecticut River one of the farmers had a cement slab for his irrigation pump. Maybe a foot or so above the water level and deep enough for her feet not to touch. After getting her acclimated to her surroundings I gave it go. With some kibble treats in hand, I waded out about six feet and gave her the call. She looked around for a second realizing there were no other options for her and...BOOM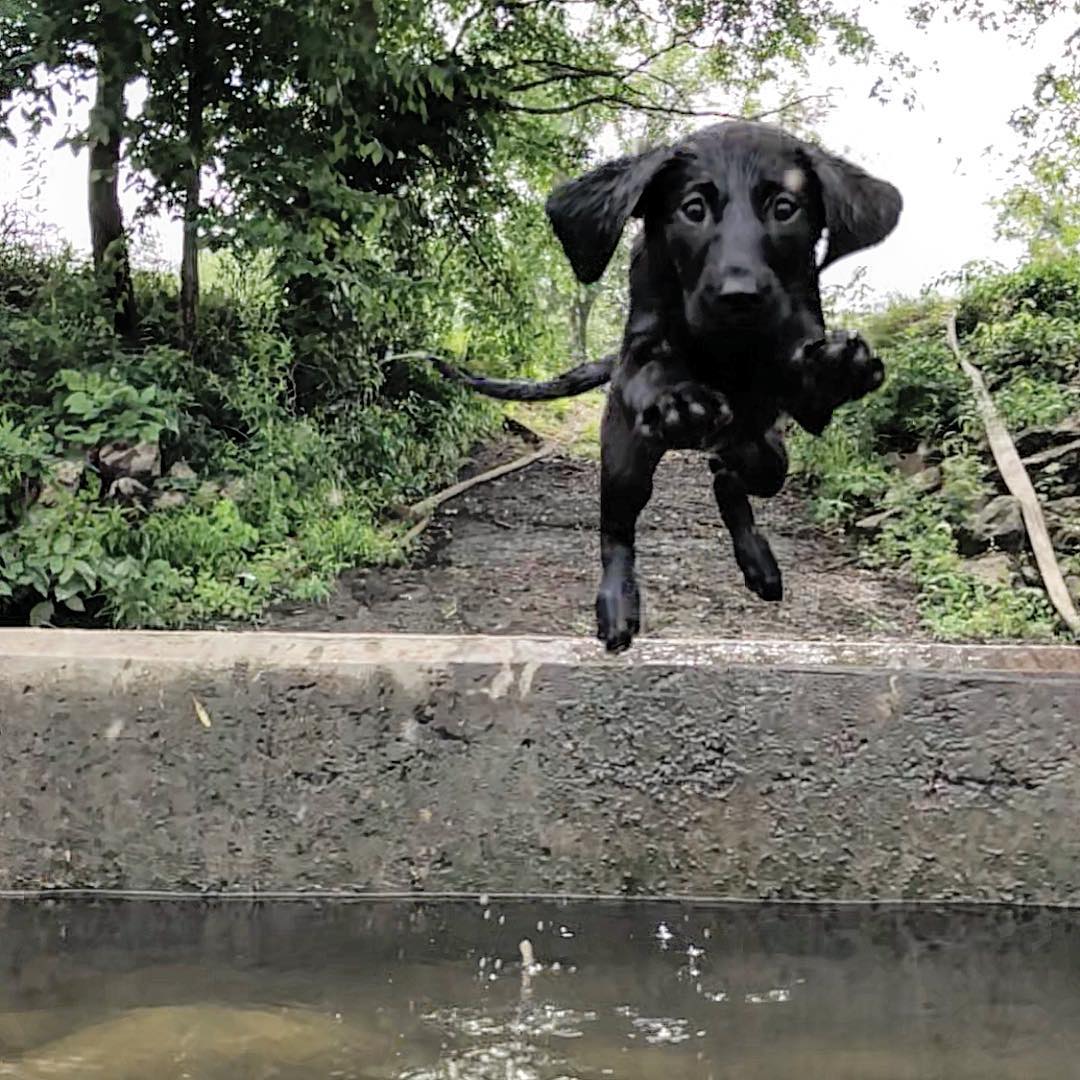 She did it again, and again and again.
She was launching like a pro dock dog. Now granted I didn't teach her to jump but I can say that she is a confident and loved little puppy and I have to think it all means something. It was definitely a "Proud Dad" moment!
Good luck and stay tuned for our progress on Kona's water training!