For inventors, by inventors. Go Gear Direct is a marketplace built to help inventors launch new outdoor gear and firearm accessories as well as to provide access to proven, high quality gear by seasoned American Made brands.
---
The last in the list of items for the perfect turkey hunt is luck and it always takes a little. This spring we had a bit of luck and I felt compelled to write about the perfect turkey hunting day. Let's see if you agree. All you need... A best friend, 'wished for' weather, good gear, an outfitter with a piece of God's country, happy turkeys, a patient and knowledgeable guide and luck.
A BEST FRIEND
I was inspired when I read about the Connecticut turkey conservation success story. I also liked hearing about how challenging wild turkeys can be. As my children were leaving the nest, I was casting about for a hobby that would involve the outdoors and appeal to my husband Ken. He loves duck and dove hunting so I thought turkeys might work. It does, which means my best friend is my ready-made hunting partner.
'WISHED FOR' WEATHER
Looking at the weather as I packed a few days ago made me smile. Mid 60s and sunny. We have had so much rain. I had bagged an early season turkey hunt due to flash floods and rain so the good weather was welcome. The one thing I always forget is you leave at 4 in the morning and you need to be warm enough until the sun comes up. The 30 degree start was tolerable with a bunch of layers and the promise that the day would continue to warm up.
GOOD GEAR
I have some 'go to' gear for turkey hunting. My Remington V3 shotgun – packable, balanced and rugged. It also has a magazine disconnect that is a nice feature when you are hunting several days and getting in and out of vehicles. The other couple of items that I wouldn't do without are:
I also recently added the Triggersafe. It added a measure of safety by covering the trigger guard as you were spotting and stalking turkeys.
AN OUTFITTER WITH A PIECE OF GOD'S COUNTRY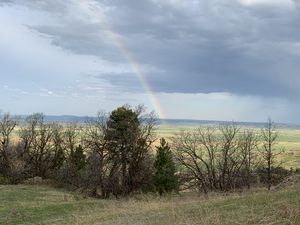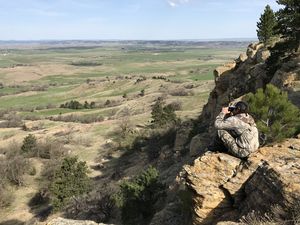 Western Gateway Outfitters in SD wrangled by Russ Roberts offers some of the most beautiful, big sky country I have ever seen. Once the sun came up and we were moving from our first location, we could easily walk out on a ridge with 1500 yard views. That is when we were 'jacked up' by all the …
HAPPY TURKEYS
Talk about HAPPY, right away and within view of our ridge, we saw 13 Toms – 2 big groups, a couple of pairs and 2 singles and they were talking. The guides had not seen this many out in the fields this season.
A PATIENT AND KNOWLEDGEABLE GUIDE
Clayton Bischoff has been guiding for over 10 years and he knows this country. Bow hunting deer is his favorite and I think turkey will be moving up on his list after this morning. He certainly was a key reason we were so successful. Clayton knows the land and had an idea of where he wanted to scout the night we showed up. Of course we wanted to tag along. Who doesn't like to see turkeys making their way to the roost? At about sunset, he let off a crow call and the answering gobble told us where to be in the morning. We got back to camp for a late dinner and turkey hunt preparation.
We actually went to bed early with the anticipation of a 3am wake-up call and a day in the field. It was a little cold (30 degrees) but the day promised to warm up. We were excited and it turns out those happy turkeys were excited as well. First off, Clayton placed us right under the roost and he sat a distance behind us with a slate call. As the light came up, you could see two big toms up on the branches – gobbling and drumming.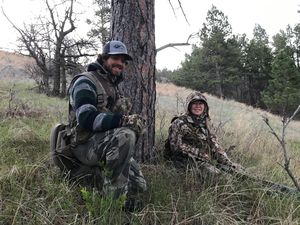 We got a 20 minute show before the first birds pitched down. 3 Hens dropped in the flat, 20 yards away and the toms were just out of sight down the hill. Clayton would call and these birds were talking but also a lot of other birds were making noise. We moved up the ridge. He then had us looking out over the land where all these birds were out sunning and strutting. It was spectacular. A particular group of 4 toms were fun to watch as they strutted back and forth following one hen.
The next part shows Clayton's experience. I would have wanted to go after the larger group but he took us after one lone gobbler to our North. We set up with some boulders and scrub oak behind us. With that kind of back drop, you blend in and don't silhouette. We see that lone gobbler working up the hill fast looking for the hen (Clayton with a slate call that appealed to that old boy). I am anxious and the bird is on my side. In a whisper:
Me: How far is he?
Ken: Too far, just wait. He is coming!
Me: Is he good now?
Ken: I wouldn't shoot him.
Me: He is stalling?
Ken: Just be … boom.
I couldn't wait anymore. I did not want him to walk off trying to pull the 'hen'. He was down at 59 yards. I looked up the pattern spread at 50 yards for a 5 shot with a full choke barrel. The pattern stays pretty tight and this one went down. I am usually more comfortable inside 40 yards but I was excited.
After tagging and pictures, we found a new spot and settled down to listen and decide which bird to hunt next. The birds quieted down, and I wondered if we would get another chance. Right when I was getting a little bored, Clayton said look to the right. A group of 4 hens and a jake were quietly walking downhill about 100 yards away. We watched and Clayton thought they might make their way around a rise in front of us and pull toms with them. We packed up and quietly made our way south with Clayton crawling up each ridge to check the lay of the land. On the third crawl up, he quickly crawled back down and got Ken to slide up and get set up. He had seen the 4 hens and better yet, he saw a Tom chase the jake off. This gave him an idea to set Ken up, pull my bird out and use it as a decoy.
It was perfect. That tom started up the hill in our direction. He disappeared in a small draw in front of us. Right when we were thinking we had lost him, Ken saw movement on the left. It was that tom and ken had a perfect shot.
LUCK –
Well, we had some today.