For inventors, by inventors. Go Gear Direct is a marketplace built to help inventors launch new outdoor gear and firearm accessories as well as to provide access to proven, high quality gear by seasoned American Made brands.
---
The simplicity of the 3 Bills Fast Fighting Gimbal is apparent when you hold it in your hand. It takes a Yeti cooler and turns it into a fighting seat in a blink. We see the value in the product but it is nice to see that others are noticing as well. Captain Pete Peterson pictured with a Goliath Grouper that he had to share with a hungry shark knows fishing and he knows gear.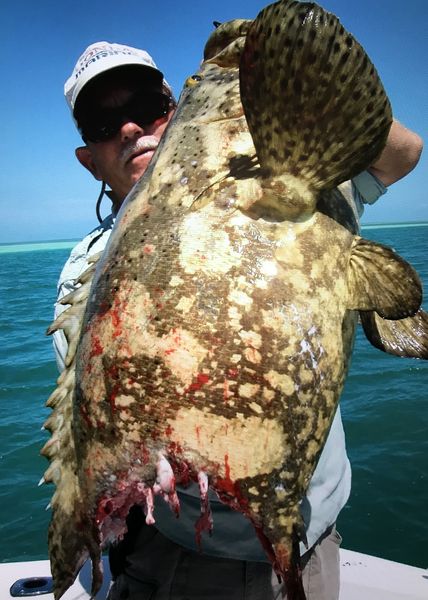 He authored an article published in The Key West Citizen – Weekend Edition
https://keysnews.com/article/category/peterson/
He walks through how easy it is to know something is a good idea and missing the opportunity to capitalize on it. Capt Peterson has generously allowed us to republish his article below. He did a great job in describing how innovation is alive and well in America.
WHY DIDN'T I THINK OF THAT?
By Capt. Pete Peterson - Citizen Fishing Columnist
---
There is no doubt about it, America continues to be a great country due to the fact people are still out there willing to take notice of an issue and then take the necessary action to resolve the problem. This "can do" approach continue to be the hallmark of many American Inventors and Innovators who have the vision to view an obstacle as an opportunity, and then put in the time required to solve a problem most of us overlook. Yeti coolers are a prime example of American ingenuity. In 2006, two brothers near Austin, Texas developed a hard-shelled roto-molded cooler in their garage. It seems like many of the great inventions (think Microsoft and Amazon) of this generation were created in a garage. The brothers developed a cooler that could withstand the toughest marine environment and still keep food and drinks ice cold. Yeti is so successful it is now traded on the stock exchange as a highly recognized and in demand brand!
Prior to the development of this innovative product the majority of fishermen settled on using cheaply made coolers on their boats. Unfortunately these modest inexpensive coolers were never built to endure the continuous full days under an unrelenting sun or to survive the harsh saltwater environment associated with boating and fishing so they frequently required replacement and repairs due to the cheaply made hinges and latches.
As the saying goes: "You get what you pay for," which is probably why it took so long for me to "invest" in a cooler that cost more than my first car. My decision to finally buy one of these hefty, albeit expensive Yeti coolers, was motivated after a fisherman (who happened to be a huge NFL offensive linemen) plopped his massive bottom down on my brand new Coleman cooler lid and left it permanently dented by the end of the day. This was the final straw that convinced me it was time to splurge and buy a Yeti. As I counted out the hundreds of dollars, I silently hoped the Yeti would live up to its burgeoning reputation.
The first thing I immediately noticed about my new Yeti cooler was it was heavy, especially when you tried lugging it around full of drinks and food. Still, I will admit, this cooler sure did keep things cold all day long and its tough exterior has survived years of use and abuse.
Now coolers inherently become accessory seating on most fishing boats, so the stout Yeti was the perfect solution for many smaller boats, especially since it was designed to not slide around on a pitching deck.
A few years ago, I had an offshore fishing trip with a fellow and his wife which highlighted exactly how versatile and essential a Yeti cooler can be. When the lady boarded the boat, I immediately noticed she was wearing a bulky waling boot on her foot due to a severe ankle injury.
Since the seas were forecast to pretty rough I was a little concerned she wouldn't be able to safely walk across the deck and fight a fish while standing up. When we hooked up the first fish of the day, I reflexively dragged the Yeti over near the gunnel, sat her down, haded her the rod and told her to "REEL!". Even thought this was her first ocean fishing experience she was able to successfully keep constant pressure on the fish and eventually brought a feisty blackfin tuna over the gunnel. Excited at landing her fist tuna, she yelled, "We're having fresh sashimi tonight!". By the end of the offshore trip she was completely worn out after battling two more blackfins and a couple of nice gaffer mahi, all while sitting on that Yeti cooler.
Now this should have been the point when I took the time to evaluate this experience and consider how to develop a better 'mouse trap'. Unfortunately I was too busy cleaning blood off the boat to realize "opportunity was knocking at my door". As a result I once again missed a chance to create a real (or perhaps I should say reel) solution to a very common fishing problem.
Flash forward a few years and I recently found myself pulling up to the dock to pick up Brad Matthews for a backcountry charter.
After Brad introduced himself he handed me a box which contained his solution for ensuring you always have a rod gimbal available onboard. Brad explained that while big game fishing in the Bahamas and Central America, he noticed only a few of the charter boats had a designated fighting chair with a built-in rod gimbal.
He also realized that almost every charter boat he boarded had a Yeti cooler placed prominently on the aft deck. Being an avid fisherman Brad understood how much of an advantage a rod gimbal can be when fighting in a big fish, so he set about developing and patenting a portable rod gimbal system that could be quickly installed on the lip of a Yeti cooler - 3 Bills Fast Fighting Gimbal

His innovation is designed with a built-in swivel which allow the fisherman to exert the maximum pressure on a fish.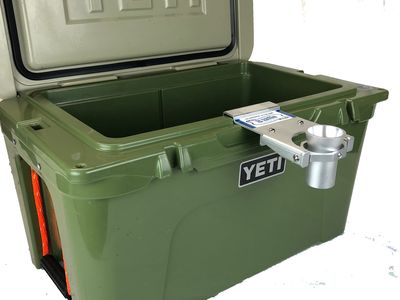 Now why didn't I think of that?
---