---
---
GHOST EDGE 3.5 FOR GLOCK'S GEN 1-5 SELECTABLE
---
---
Drop-in trigger connector. Smoothest & lightest feel
---
---
Product Description
---
BUMP FREE trigger connector for GLOCK Gens 1-5*
No more wall of resistance after the take up!
The GHOST Edge 3.5 is the best self-defense drop-in connector made and by changing a few springs you can also have the best sport trigger connector!
The GHOST EDGE is the evolution of the drop-in style trigger connector. This is the smoothest and cleanest drop-in self-defense trigger connector for Glock semi-auto pistols. THE GHOST EDGE give you a first hit advantage! This edge means a faster and more accurate first shot!
We keep improving our trigger connectors to make you a better shooter. Better shooting means you win on both the one-way and two-way ranges. The GHOST EDGE is smoother, lighter and eliminates the GLOCK pre-travel bump. This bump or glitch is the first resistance you feel when the trigger bar bumps into the connector causing you to move the pistol offline, affecting your first shot accuracy.
Edge Options:
Edge 3.5 Trigger Connector
Edge 3.5 Trigger Connector and Spring kit
The complete drop in trigger kit designed to help you fine tune and improve your trigger pull and function in competition, self defense carry or hunting pistols. The kit includes the Edge 3.5 Trigger Connector and 4 Drop in Springs:
- 4lb reduced power striker spring (should only be used for a strictly target or competition set up.)
- 6lb extra power striker spring (Use this to increase the strike power and makes for a faster reset.)
- Reduced power safety block plunger spring (Smooth out the bump as the safety plunger is engaged.)
- 6lb extra power trigger spring, the extra power reduces the pull weight (This heavier weight offsets the added weight of the striker. This is an assisting spring and lightens up the trigger press for GEN 1-4. Not available for GEN 5 pistols.
Special Considerations:
Fits GEN 1-5 - Does not fit Glock 42 and 43
DROP-IN, NO FITTING REQUIRED!
The 4.0 lb Firing Pin Spring may cause light primer strikes in some pistols and this is the Target/Sport configuration.
Consult a gunsmith or armorer for installation.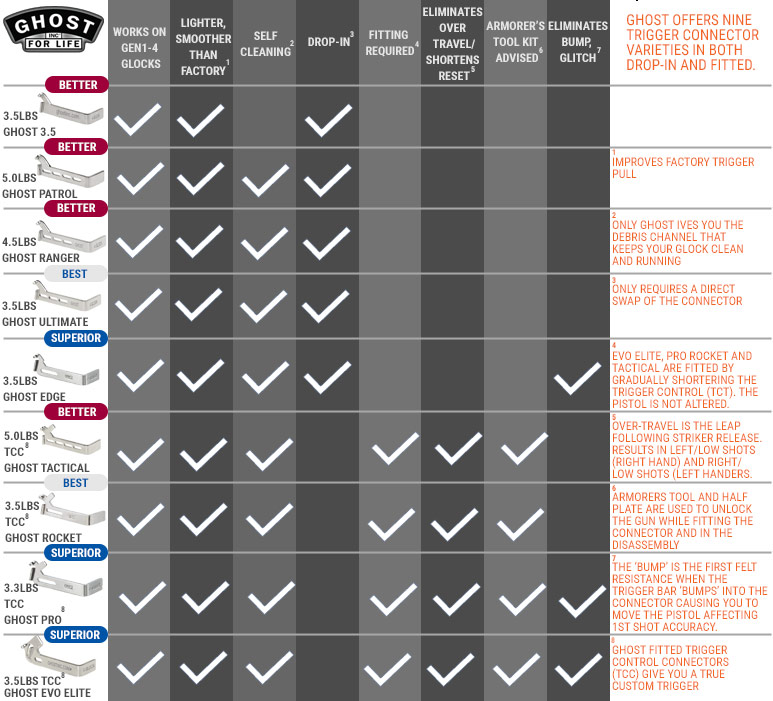 ---
Features
---
This connector is compatible with GEN 1-5
Ghost Lifetime Guarantee
Made in the USA
---
---
Firearm Model
Glocks - see features for models
---