---
---
C.A.T. 4.5 FOR GLOCK'S GEN 1-5
---
---
This is a semi drop-in 4.5lb. TCT connector that will eliminate most of the accuracy robbing over-travel that all Glock pistols have.
---
---
Product Description
---
This will shorten the Action and reset faster than stock. Some Glock's may require the shortening of the tab, function without the need of trimming in 99% of all Glock's tested.
This 4.5lb Semi-Drop-In Combatives Application Trigger (CAT) connector offers a smooth trigger action insuring the muzzle stays on target during a critical stress, pandemonium filled fight. The Ghost C.A.T. gives you cat like response to the lethal situations. Why a semi Drop-In? We decided that the fastest and safest way was to manufacture a patented Trigger Control Connector that offered the advantages of a custom fitted trigger without the expense of gunsmith services and related down time. The C.A.T. gives a custom feel with less over-travel than a drop-in due to the pre-cut trigger control tab. Short initial action combined with reduced over-travel results in the best drop-in combative trigger available.
Special Considerations:
Fits GEN 1-5 - Does not fit Glock 42 and 43
This is not a Drop-in trigger, minor fitting required.
Consult a gunsmith or armorer for installation.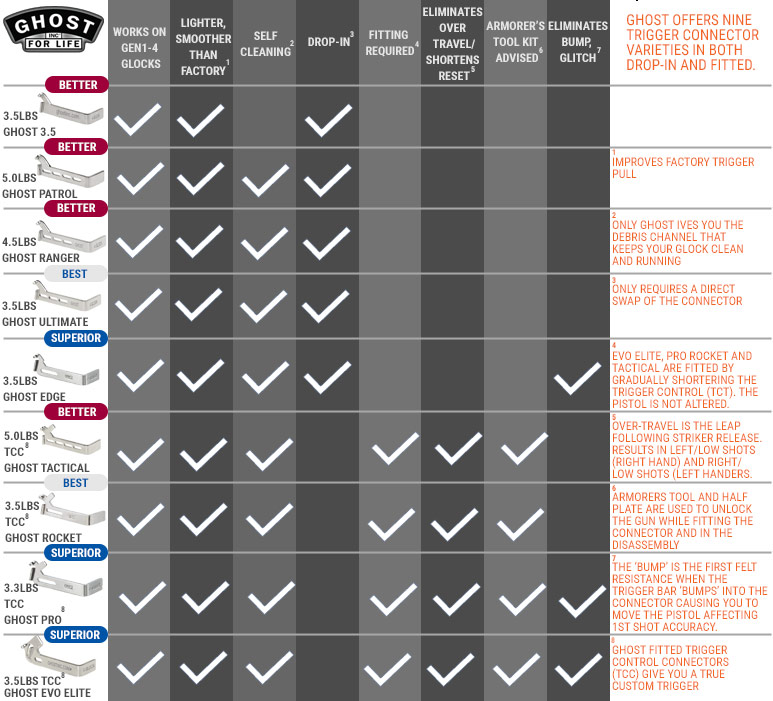 ---
Features
---
This connector is compatible with GEN 1-5
Ghost Lifetime Guarantee
Made in the USA
---
---
Firearm Model
Glocks - see features for models
---