---
---
GHOST ANGEL 3.0 for Glocks GEN's 1-5 - SELECTABLE
---
---
Smoothest and lightest Self-Defense Drop-in trigger connector ever!. For Glocks GEN 1-5 - Choose a connector or the connector and spring kit.
---
---
Product Description
---
This is the world's only connector with Anti Flinch Engineering = smooth no load trigger pull.
You will be able to shoot your pistol more accurately and faster because there is no load before the shot breaks. The same smooth feel all the way through!
We accomplished this by redesigning how the trigger connector works the pistol. The redesign gives the trigger a huge mechanical advantage over the old style conventional connectors.
You will have the best trigger pull possible for self-defense! Self-defense situations are dynamic, you must react to the actions of others. Get a flash sight picture and pull the trigger very rapidly!! The trigger is the heart of a self-defense pistol, good trigger good results! Smooth no load means NO FLINCH and STAYING ON TARGET!
Angel Options:
Angel 3.0 Trigger Connector
Angel 3.0 Trigger Connector and Spring kit
The complete drop in trigger kit designed to help you fine tune and improve your trigger pull and function in competition, self defense carry or hunting pistols. The kit includes the Angel 3.0 Trigger Connector and 4 Drop in Springs:
- 4lb reduced power striker spring (should only be used for a strictly target or competition set up.)
- 6lb extra power striker spring (Use this to increase the strike power and makes for a faster reset.)
- Reduced power safety block plunger spring (Smooth out the bump as the safety plunger is engaged.)
- 6lb extra power trigger spring, the extra power reduces the pull weight (This heavier weight offsets the added weight of the striker. This is an assisting spring and lightens up the trigger press for GEN 1-4. Not available for GEN 5 pistols.
Special Considerations:
Fits GEN 1-5 - Does not fit Glock 42 and 43
This is not a Drop-in trigger, minor fitting required.
The 4.0 lb Firing Pin Spring may cause light primer strikes in some pistols and this is the Target/Sport configuration.
For Self Defense or in a 10mm/45 caliber GLOCK we recommend the 6.0 lb firing pin spring or keep stock firing pin spring and use the 6lb. trigger spring and the reduced power safety plunger spring.
Consult a gunsmith or armorer for installation.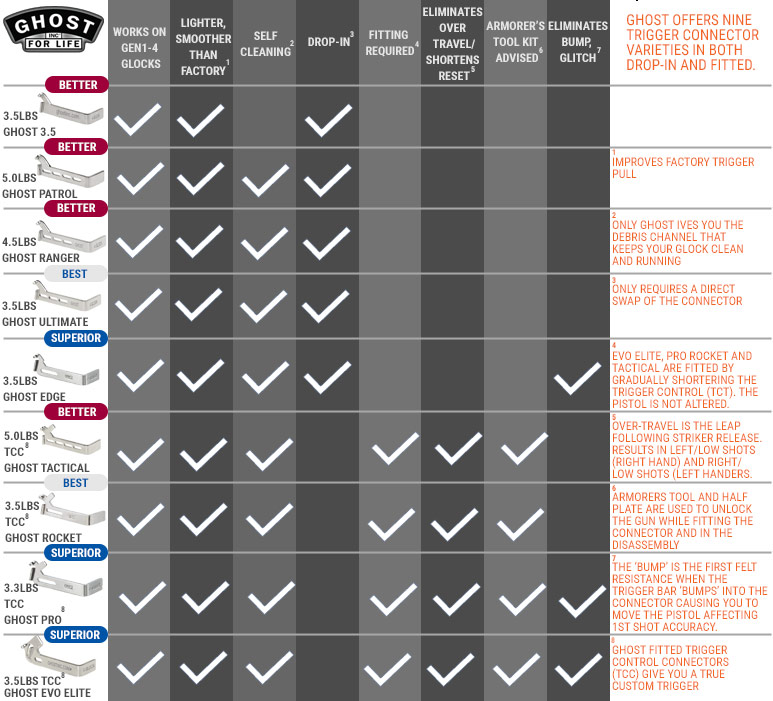 ---
Features
---
This connector is compatible with GEN 1-5
Ghost Lifetime Guarantee
Made in the USA
---
---
Firearm Model
Glocks - see features for models
Ghost Connector Options
Connector and Springs
---